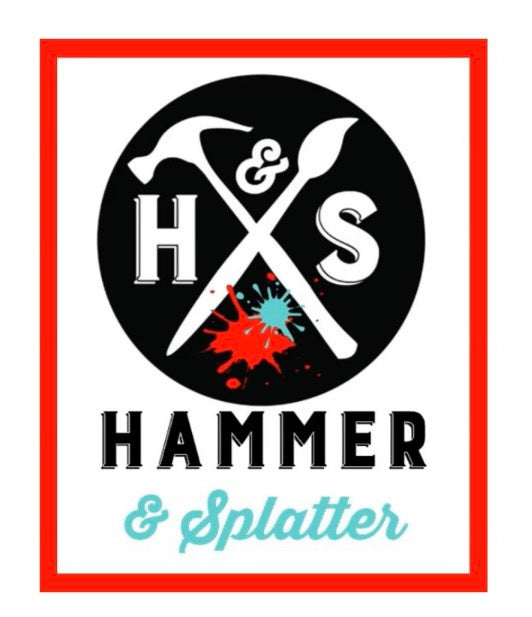 Hammer & Splatter
Hammer & Stain OWB
Splatter Den sessions are excellent ways to relieve your stress or to just go crazy with paint. You get to "SPLATTER" paint on a canvas or choose one of our other projects to Splatter on.
There are multiple class times on most days to fit your schedule. Come by yourself or bring some friends but come ready to create with your selected project!
More About Splatter Den
This workshop will be a way for you to have a stress-free environment that is fun, anxiety-relieving, and where you can certainly make quite the mess while creating your very own masterpiece!
We find this to be both an artistic outlet for those who are interested, and for people to be able to bring joy to one another and learn more about each other in a unique/fun way. If you would like to register for one of these upcoming sessions, and have your own experience in the SPLATTER DEN follow these instructions: 
HOW TO REGISTER FOR OUR SPLATTER DEN EXPERIENCE:
Step 1:  Call 270-215-0191 to book a time.  We have Splatter Den sessions on Thursday, Friday and Saturdays.  We start booking times at 12:00 pm and they run in hourly increments through the afternoon/evening.
Step 2:  Select your project.  We have the following projects available:
16" x 12" White Canvas Panel - $25
16" x 20" White Canvas Panel - $30

12" x 12" Wood Square - $30
We also offer an upgrade to any of the above projects for an additional $10 you can add a stencil.  The stencil you choose can be of an animal, flower, unicorn, etc. or your name.  Just put a check mark in the box next to Customized Stencil and it will add $10 to your cart.  You can then enter the stencil choice in the Stencil Personalization Box.
Add the quantity (number of people attending) for each project to the cart and continue on to Payment for your appointment time to be confirmed.  Each person that is participating will need to purchase a project.  The projects do not all have to be the same.
Regular price $25.00 Sale
Terms
Once your order has been submitted we are immediately beginning the process of production of your personalized stencil. If you would like to cancel your reservation, you must give a minimum of 48 hour notice. Please note a restocking fee of 30% of the total amount of the workshop will be deducted from your refund. Same day cancellations or no-shows will not be eligible for a refund. Cancellations will be processed on the day we receive your cancellation request. It may take up to 2 weeks for the refund to return to the account you used to purchase your items. Hammer & Stain reserves the right to make any amendments to this policy at any time. Notification of any changes will be published on this page. If you have any inquiries regarding cancellations or any of our other policies please contact us.